It was a nice weather yesterday, so I decided to clean up the house. The cleaning lady that due to come this Saturday cannot make it. So before the house is covered with dust till the next cleaning round, I better take the initiative to clean it first.

Suppose to clean up the house in the morning, but last minute need to meet up with friends. So whole morning busy drive my friends around the city as they are looking for new house to move in. Yeah, I am a part time broker, trying my hand on real estate. *wink* Spotted a nice house which is around RM270K (terrace intermediate) which is inclusive of furniture and air con. I thought it is worth a bargain, but my friends were not so keen on the furniture etc.

Back to my cleaning, I am very pleased with myself after done with it. The floor is sparking clean, everything is in order and place, and the house is smell of nice detergent. *wink* Never thought I could do it. It was pretty tiring, but am I glad that I did it. As for today, I have some ironing to do. Hubby is going to Sibu tomorrow, so got to iron some clothes for him to bring over. He is very particular when come to clothing, need to iron properly before wearing them. Lol! You know that I hate ironing, but since it is part of me being a full time housewife, I guess I cannot complain much right now.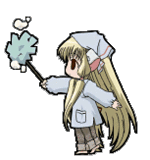 As a break, I will be meeting an ex-colleague for lunch later. Only 1 week, but I am starting to miss her. And not only that, I start to miss been a working lady. Lol!