My big number!
Yes. That is how old I am today. I cannot believe that I am that old.
When I was in my teen, I dreamt of being in 20s and have a career. I can do a lot once I reached 21. But now I am in my 30s, I wish to remain 20s all the time. Lol.
Never mind what is my age, the most important thing is what I have achieved so far. Family and career. I have a great life with my loving hubby, 2 beautiful children, a promising career and business opportunity. So, no big regrets there. *wink* Hope more to come.....I am not greedy but no harm asking more right? Lol!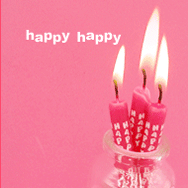 Happy birthday to me! :)
Age is nothing but a number